Books to Treasure!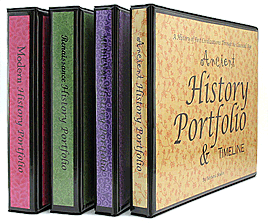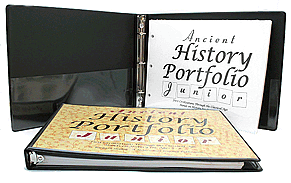 The Homeschool Journey History Portfolios encourage rigorous study and plenty of creativity while providing a compact and handsome way of organizing and showcasing a student's own written research projects and reports, colorful drawings, photographs, clippings, downloaded images... anything that can fit between the pages! Each book is designed for use by an individual, child or adult, and will become a unique record of the student's journey through history... a keepsake and a "book to treasure!"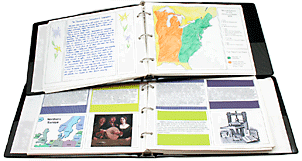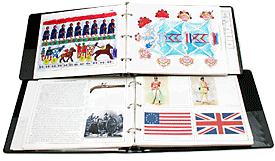 Click image for a closer look.
Read More About History Portfolio™
* An engaging history curriculum.
* Rigorous: involves reading, research, and writing.
* Comprehensive: covers history, geography, art,
architecture, and science.
* Supports Classical, Charlotte Mason,
and Notebooking approaches.
* Adaptable to your method of teaching,
and for children of various ages!
* Works as a stand alone curriculum using living books,
or alongside programs such as Tapestry of Grace,
Mystery of History, Sonlight, and Truth Quest.
* Inspires creativity.
* Compact.

"History can inspire the imagination;
the History Portfolio Series can capture the inspiration."

History Portfolio Products and this entire Website
copyright 2002-2011 HomeschoolJourney.com and Barbara Shukin